Ankit Gupta, CEO, WeblinkIndia.Net Shares Insights On Importance Of Keywords With APN News
May 24th, 2019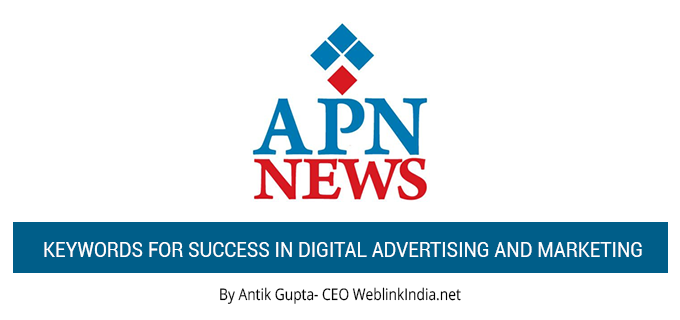 Mr. Ankit Gupta, CEO of WeblinkIndia.Net, holds expertise in digital advertising & marketing and regularly shares his insights with entrepreneurs and small business owners. In his recent discussion with APN News, he has explained the importance of keywords in digital marketing.
Mr. Ankit Gupta shares bracket with leading digital marketers and has attended a number of seminars and conferences to enhance his knowledge on the same. He seeks to empower the business owners across all industries by enlightening them about the power of internet and digital marketing. His latest write-up 'Keywords for Success in Digital Advertising and Marketing' was published in the APN News on May 23, 2019. In the write-up, Mr. Ankit has briefed about the guidelines to create effective digital advertising and marketing campaigns are provided below.
Here is an excerpt from his write-up, Digital Advertising and Marketing are crucial to the success of every business. Hundreds of millions of consumers are online daily on Smartphones and laptops and other devices. Getting the attention of these consumers is important for businesses to grow. Unlike advertising on traditional media, advertising on digital media thankfully permits reaching a narrow audience. This makes digital advertising ideal for businesses that have a small advertising budget and want to reach niche consumers likely to buy their products or services.