Trade Enquiries For NaMo/RaGa T-Shirts & Other Election Merchandise Up By 40% This Election Season: ExportersIndia
Apr 29th, 2019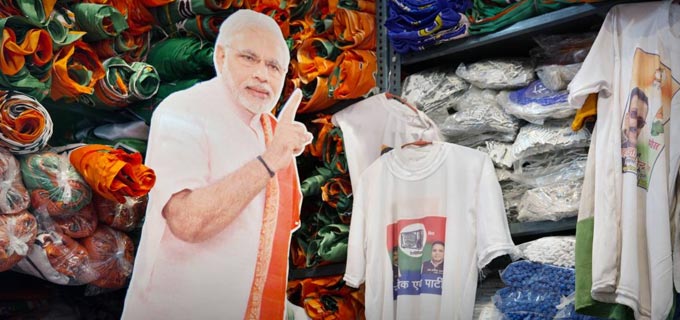 The largest searchable B2B marketplace, ExportersIndia.Com, has witnessed a 40% increase in the enquiries received for NaMo/RaGa t-shirts and election merchandise from party workers, supporters, etc., in the election season 2019.
Ahead of the Lok Sabha Election 2019, the business-to-business portal, ExportersIndia, has revealed how its enquiries for election merchandise like banners, posters, canopies, flags, etc., has increased tremendously in April. The campaigners and supporters of various political parties are sending in bulk enquiries for election merchandise on different online marketplaces, ecommerce sites, and B2B portals. NaMo and RaGa t-shirts, along with wristbands, headbands, badges, electoral symbols, and other merchandise, are also in high demand. The rise in demand has also led to a hike in prices by 30% for all these merchandise and goods due to their seasonal demand.
Sharing his views of the increased demand, Ankit Gupta, Vice President of ExportersIndia said, "The portal has registered a 40% rise in demand for banners, canopies, billboards, and flags, compared to the previous general elections in 2014. T-shirts depicting various political parties and their symbols are also in high demand these days. Because they are seasonal products, the price increase is commensurate with the rise in demand, at around 30%. With this overall leads have increased at least 20% week on week as April approached".
Over 900 million Indian citizens are set to cast their vote for the favorite political party to elect their leader in this Lok Sabha election. The investment in election campaigns is huge with the demand for election merchandise higher by 40% as compared to the demand of these items in the 2014 elections. Business to business marketplaces are becoming the one-stop shop for campaigners, supporters, and political party workers to buy all types of merchandise and t-shirts with NaMo or RaGa slogans. Leading news portals like Economic Times and The Times Of India have also covered this increase in demand and enquiries in their respective articles.